"Childhood memories and experiences are the foundation of happy adults.
Keeping good times alive through play is UBER+KLEIN's motto - "we exist so you don't grow up too quickly!" - Clara Jane - head scout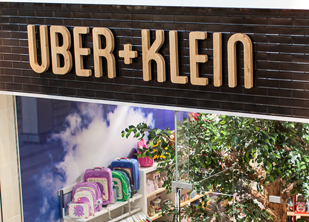 UBER super- big- +8
+ KLEIN small, little, baby -7 yo.
Discover select ranges of toys, gifts, fashion and fun at UBER+KLEIN. Helping your kids stay kids and the grown ups playing.
We see there should be no shortcuts to ensuring customers have a great experience, as we are not a just another faceless online store. Come and see the range or talk to us face to face. Our online store enables you to shop anytime or for those who can't make it in to see us, your'e welcome to home delivery.

Choose to surround yourself with inspiration. Any toy can also provide a sense of joy in its play mode or display mode. It just depends on how you place it in your space. Everything here is hand selected on the basis of it's background, design form, the way it works and overall how much fun you can have with it around!!
A word on fashion - Clothing kids. Some say they grow too quickly so its not worth the investment. Do you all of your clothes get worn all your life? Not that many items I'm sure. But we know you'd get a good wear of any clothing item we promote. Because its made well. Washes well. Wears well. That's all we want it to do. Kids need kids clothes and we hope you find our selection fun and comfy. Visit our special organic brands here.
It's always a pleasure when we hear how much someone loved their gift or how well the kids are playing with their toys. Share your insights and joy with us here with a review. Every week we "REWARD MY REVIEW" with a $20 gift voucher to go toward your next purchase.
Keep your minds open and happy.
To all of you, from all of us at UBER+KLEIN - For the best in Kids!
Annie Wang
Store Manager